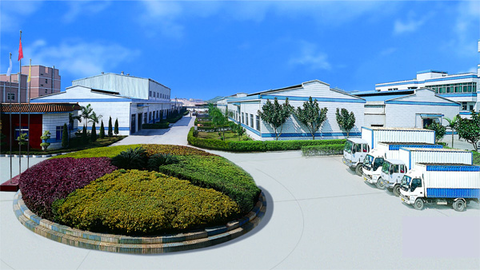 About JunLee

JunLee Energy, a leading global new energy solutions provider, established in 1992, now boasts a history of 29 years dedicated to the R&D and manufacture of VRLA Batteries, Lithium-ion batteries, and UPS industry solutions.
JunLee has established three regional production bases located in Guangdong, Dongguan, and Shaoguan of the PRC,. With more than 5,000 employees in which more than 500 are technical officers, Junlee factories cover an area of more than 100,000 square meters. The 50 production lines and related testing equipments together with three dedicated battery research and development centers located in Guangdong, Donguan, and Shaoguan constituted strong and advanced manufacturing and research and development capabilities of the enterprise. Junlee mainly produces reserve power batteries, they include series products such as AGM VRLA batteries, VRLA-GEL battery, pure lead batteries, UPS high rate batteries, marine batteries, railway batteries, start-stop batteries, automotive batteries, motorcycle batteries, OPzV, OPzS, PzS, PzV and PzB tubular plate batteries, golf cart batteries, scrubber sweeper batteries, and electric vehicle batteries, etc.. These products are widely used in various related areas such as telecommunication, power system, radio and television system, railway, solar energy, UPS, emergency lights, security, alarm, gardening tool, car, motorcycle, golf cart, forklift truck, electric vehicle, and baby carrier, etc.. Junlee annual production capacity exceeds 20 million KVAh.
Our forward-looking research and development team and high production quality make Leoch possessed influential international competitive power. With more than 40 trading companies established in the PRC and around the world which located in regions like the United States of America, Europe, and South-East Asia, our products sell and distribute to more than 100 countries.
Being hardworking and enterprising, through practice, Junlee keeps on developing and blazing new trails constantly. For quality control, professional quality management centers have been set up and successfully acquired the recognition of various standards such as ISO9001, TS16949, ISO14001, and OHSAS18001. In the area of technological innovation, we have carried out technical cooperation with renowned overseas battery manufacturers, introduced advanced equipment and instruments from domestic and overseas suppliers, and obtained a number of patent technologies. Our production capability has reached the international advanced level. To enhanceJunlee independent innovation ability, we continuously perform technical exchanges and cooperation with famous universities in the PRC and have established research bases with them. For Junlee to become a  JunLee Energy is committed to innovation and technology-based on global customer needs. Powering a Green Future.
Production Lines: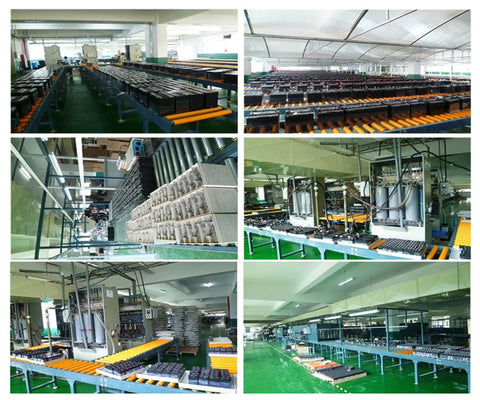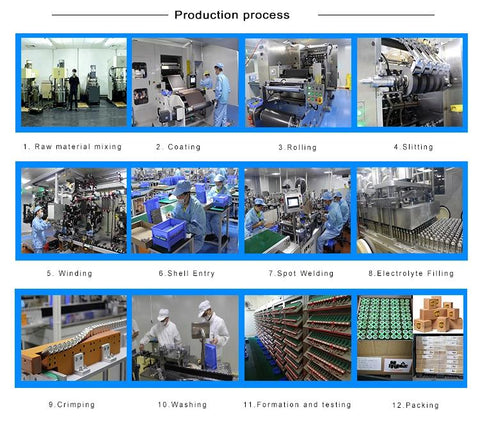 Features of Lifepo4 Battery
JUNLEE Solar storage battery 48V 400AH Lithium Battery Pack  with VDE, CE Certified Hybrid inverter for Energy Storage ESS Using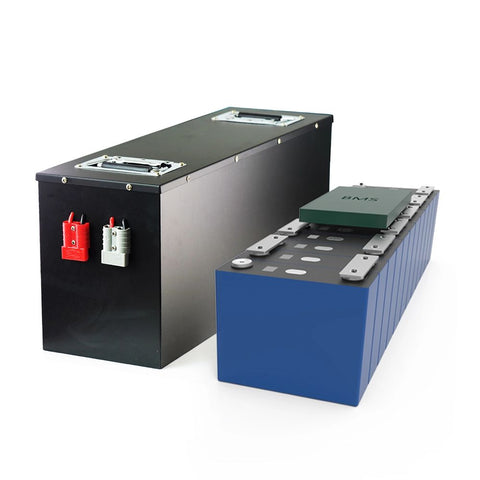 Long cycle life

: Offers to 20 times longer cycle life and five times longer float/calendar life than a lead-acid battery, helping to minimize replacement cost and reduce total  cost of ownership 

Lighter Weight

: About 40% of the weight of a comparable lead-acid b battery. A" drop-in" replacement for lead-acid batteries.

Higher Power

: Delivery Twice power of the lead-acid battery, even high discharge rate, while maintaining high energy capacity. 

Wide Temperature Range

: -20℃-60℃

Superior Safely

: Lithium Iron Phosphate chemistry eliminates the risk of explosion or combustion due to high impact, overcharging, or short circuit situations.
Increased Flexibility: 

Modular design enables deployment of up to four batteries in series and up to ten b batteries in parallel.
Built-in BMS overall protection
Overcharged protection
Over discharged protection
Thermal protection
Overload protection
Over-current protection
Specification:
Specification: 
 

Nominal voltage

48V
Nominal Capacity
400Ah (C

5

,25

℃

)

Energy
20480Wh
Electrical Characteristics
Internal Resistance
≤800mΩ
Cycle Life
>6000 cycles @1C 100%DOD
Months Self Discharge
<3%
 

efficiency of charge

100% @0.5C
 

efficiency of discharge

96~99% @1C
 charge voltage
58.4±0.2V
 charge mode
 0.2C to 58.4V,  then 58.4,charge current 0.02C(CC/CV)
Standard Charge
 Charger current
35A*2Module
 Max. charge current
35A*2Module
charge current-off voltage 
59.2V±0.2V
Continuous Current
100A*2Module
Standard Discharge
Max. Pulse Current
200A(<3s)
 

Discharge current-off voltage

40V
Charge Temperature
0 ℃ to 45 ℃ (32F to 113F) @60±25% Relative Humidity
Environmental
Discharge Temperature
-20 ℃ to 60 ℃ (-4F to 140F) @60±25% Relative Humidity
 Stoarge Temperature
0 ℃ to 40 ℃ (32F to 104F) @60±25% Relative Humidity
 Waster dast resistance
IP56
Cell & Method
3.2V50AH-16S4P*2Module
Plastic Case
6U standard case*2Module
Dimensions (in./mm.)
600*650*800mm (482*500*280 mm*2Module)
Mechanical
Weight (lbs./kg.)
220Kg
Terminal
100A through terminal
Protocol (optional)
SOC (optional)
Rs485
Highlights
Long lifetimes - 6000 cycles @85% DOD (dependant on actual DOD, usage & temp.) and low self-discharge rate

Easily scalable and stackable 2.5kWh modules - up to 200kWh in a single installation

A self-designed BMS protects the cell from overcharge, over-discharge, over the current, short circuit.

Built-in accessible 125A DC breaker On/Off switch - increases safety.

Communication Protocol: Optional RS232/RS485

The simple rack-based installation system

Lcd display available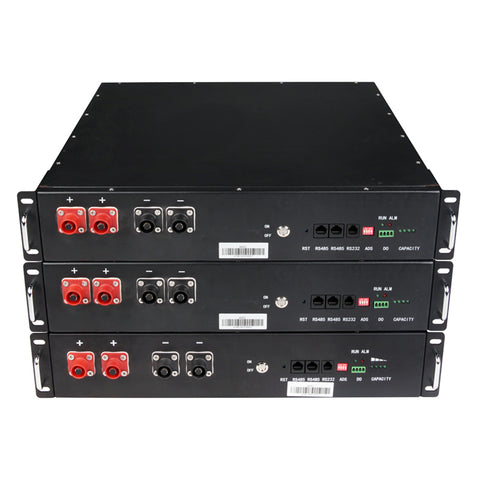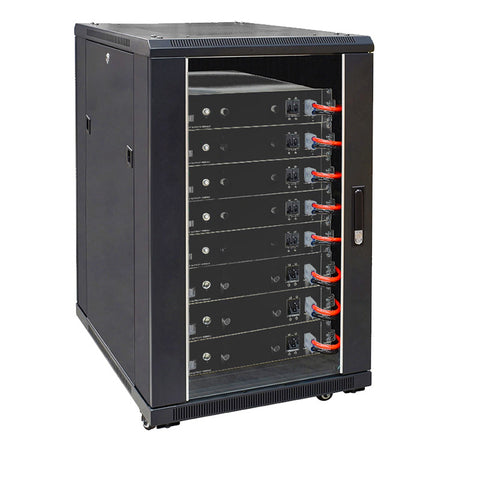 Our 48v 150Ah solar battery pack is scalable energy storage from 2KW, 3KW, 5KW, 10KW,30KW, 50KW, 100KW, 150KW  to 200 kWh
Specification for LiFePO4 solar 48v 150Ah 7.5KWH System
MODEL

OSN-ESS-48150L

PERFORMANCE

Rated Capacity (5hr)

150 Ah

Nominal Voltage

48 V

Discharge Ending Voltage

40 V

Charging Limited Voltage

58.4 V

Max. Charging Current

50.0 A

Max. Continuous Discharging Current

50.0 A

Parallel Connection

Optional (up to 16P). When paralleling Max. charging current = 20A

Containing Cell

3.2V LiFePO4 Cell

Design Life

More than 10 years

Cycle Life

6000 cycles @85% DOD (dependant on actual DOD, usage & temp.)

Discharge Rate

1C

Response Time

> 1ms

MECHANICAL SPECIFICATIONS

Dimensions (W*D*H)

480* 450 * 89 mm (Single Module)

Weight

25.5Kg(Single Module)

Enclosure

3U steel enclosure with protection handles

Communication Ports 

RS485 RS232 & SNMP available

OTHER

Operating Temperature

Charging: 0 to +45°C / Discharging: -20 to +60°C

Storage Temperature

-20 to +60°C

Humidity

5% to 95% Relative Humidity (Non-condensing)

Warranty

5 years
Related products: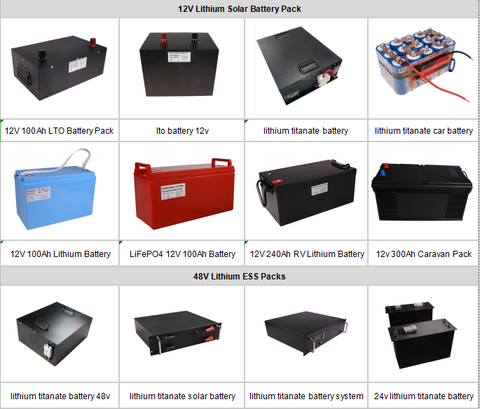 Other Features



-Safe 
Junlee LFP battery modules are a practical and economical battery system based on Lithium-iron-phosphate technology (LFP or LiFePO4).
-scalable
Available in standard 2.5kWh modules, the LFP battery modules can be easily scaled in multiples up to 200kWh in a single installation, making them suitable for a range of applications.
-Efficient
JUNLEE's LFP battery modules feature a round-trip efficiency of 92%, a low self-discharge rate of 3+ years, and unlike traditional lead-acid batteries.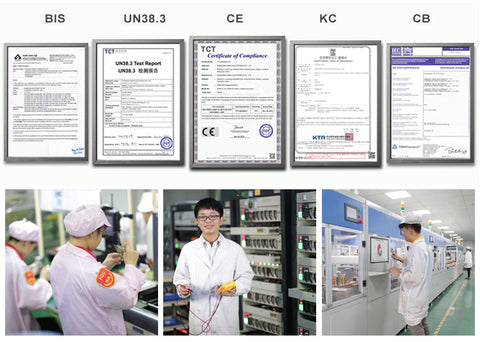 Application:
Electric Vehicles, electric mobility
solar/wind energy storage system
UPS, backup power, Wireless Hut back-up power
Telecommunication, Medical Equipment
Medical equipment
Emergency Lighting
Telecom, network, and data center
Street & Highway Monitoring & Surveillance
Long duration Industrial UPS Systems
FAQ:
Q:What is special about lithium batteries?
A:With high energy density, it has reached 460-600Wh/kg, which is about 6-7 times that of lead-acid batteries. Long service life, life span can reach more than 6 years. Light weight, the weight is about 1/5-6 of the lead-acid product under the same volume
Q:What is a lithium battery used for?
A:Lithium battery use for power and energy storage. Like emergency power backup or UPS. Dependable electric and recreational vehicle power,golfcart,reliable and light-weight marine,solar power storage,surveillance or alarm systems in remote locations.
Q:What is the difference between a lithium battery and a lithium-ion battery?
A:It mostly comes down to the fact that lithium-ion batteries are rechargeable while lithium batteries are single-use. Lithium battery have a higher energy density than lithium ion batteries.
Q:Which battery is better alkaline or lithium?
A:Lithium batteries are lighter than alkaline batteries, so they offer an advantage when used with portable devices, especially cordless power tools.A lithium battery can be used as a high-performing alternative to a standard alkaline battery. Lithium battery designed to last longer,making them a good choice for high-tech and smart devices. They can withstand extreme low temperatures. Lithium can operate without failing in a very cold climate, so it's ideal for outdoor applications.