Energy World Network learned from foreign media on September 15 that an analysis conducted by Imperial College London for Drax Electric Insights found that after more than a century of dominance of fossil fuel infrastructure, the UK now has more installed wind power capacity than any other country. Other types of power stations.
The installed capacity of wind farms nationwide reached 28.9 GW, exceeding the installed capacity of combined cycle gas power plants of 28.7 GW for the first time. This means the UK is the fifth country in the world to build more wind farms than any other form of power generation, along with Denmark, Spain, Ireland and Finland.

Gas has been the UK's largest source of electricity for the past decade, and before that, coal had topped the list since the Victorian era. Before 2011, coal was the country's largest installed capacity, but installed capacity fell from 28 GW to just 2 GW.

Natural gas supplies have been slowly declining as the oldest gas stations near the end of their useful lives. There have been no new large-scale fossil fuel power stations built in the UK since 2016, with more power stations retiring than being built.

The opposite is true for UK wind farms, where capacity has tripled over the past decade. Current installed capacity is evenly distributed between onshore (14.1 GW) and offshore (13.8 GW).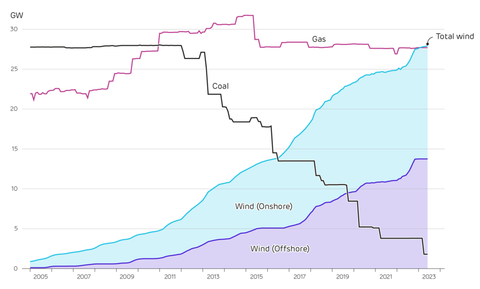 England and its waters have half the capacity, with the remaining half spread across Scotland, Wales and Northern Ireland. The country has invested around 60 billion pounds ($74.9 billion) in these farms over the past 20 years, equivalent to nearly 1,000 pounds per person in the country. Around £21 billion has been invested in onshore wind farms and £39 billion in offshore wind farms.

The pace of new wind farm construction has experienced peaks and troughs over the years, but has averaged around 2 gigawatts per year since 2009. The road to new wind farm construction has been bumpy in 2020 due to the ban on onshore wind power and the impact of the COVID-19 pandemic.

Project completions fell sharply in 2021, with just 0.36 GW installed, the lowest level in 15 years, but major projects such as Hornsea Two, Moray East and Triton Knoll all came online last year.

There are currently around 6.7 GW of wind farms under construction in the UK. In addition, the country has an offshore wind power plan of up to 98 GW, ranking second in the world after China.