On February 7, South Korean market research institution SNE Research released the 2021 global power battery installed capacity rankings.

The top ten global power battery installed capacity in 2021 are: CATL, LG New Energy, Panasonic, BYD, SK On, Samsung SDI, AVIC Lithium Battery, Guoxuan Hi-Tech, Envision Power, and Honeycomb Energy.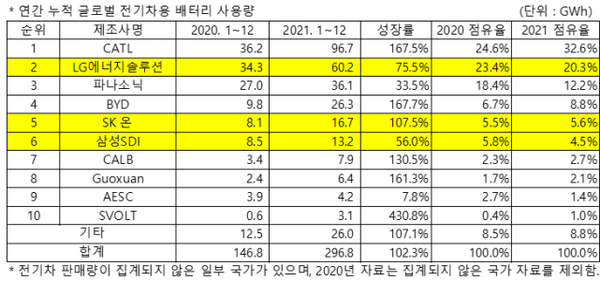 Data shows that CATL's global installed capacity in the power battery field reached 96.7GWh last year, with a market share of 32.6%, ranking first in the world. It is understood that this is the fifth consecutive year that CATL has been on the throne of the world's largest power battery company. Compared with 2020, its market share increased by 8 percentage points last year. According to SNE statistics, as of 2021, the total global supply of automotive batteries will be 296.8GWh, double that of 2020
.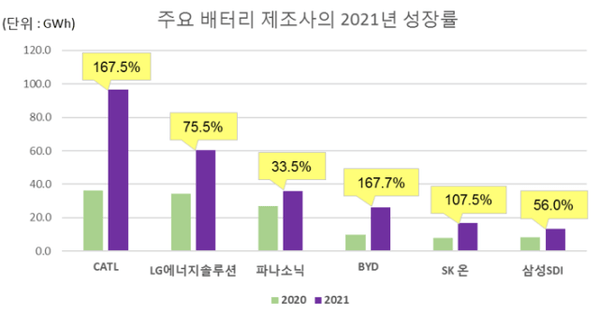 In January this year, Ningde Times released a performance forecast saying that the company's net profit last year was expected to be between 14 billion and 16.5 billion yuan, a year-on-year increase of 150%-195%. This is the highest profit level since going public in 2018.

CATL's biggest competitor, LG Energy Solution, ranks second in this list. The South Korean company loaded 60.2GWh of power batteries in cars last year, with a market share of 20.3%.

At a press conference in January, LG Energy Solution CEO Kwon Young Soo said he expected the company to surpass CATL in market share in the future, but did not disclose a specific timetable, according to Reuters.


It is understood that among the top ten, 6 Chinese companies including BYD, AVIC Lithium, and Guoxuan Hi-Tech were shortlisted, while BYD ranked fourth with a market share of 8.8%. The other four Chinese companies ranked seventh to tenth respectively, with a combined market share of 7.2%. Image (Source: IT House)