24V 100AH LiFePO4 Lithium Iron Phosphate Battery China Manufacturer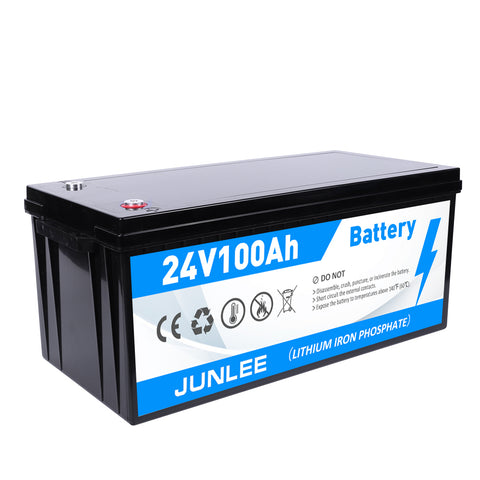 Specification

VOLTAGE
24V
CAPACITY
100Ah
ENERGY
2560 Watts(Wh)
TERMINALS
M8 Easy to adapt to different connection needs.
SIZE
522 L*238 W *225 H mm
WEIGHT
27 kg
LIFE CYCLES(BATTERY LIFESPAN) DEEP CYCLES 
Up to 100% DOD capacity for 4,000 cycles in recommended conditions. 25℃ is better. 
OPERATING TEMPERATURE RANGE
Ideal for rugged & harsh environments. 
Charging: 0 to 45 ℃(32℉ to 113℉)@60±25% Relative Humidity
Discharge: -20 to 60℃(-4℉ to 140℉)@60±25% Relative Humidity
Storage: 0℃ to 45℃(32℉ to 113℉)@60±25% Relative Humidity
DISCHARGE
100A max continuous. Month self discharge 2%(20℃)
MAX CHARGING CURRENT
50 A
INTERNAL RESISTANCE
80≤mΩ
CAPACITY AFFECTED BY TEMPERATURE
40℃ 106%   25℃ 100%  0℃ 86%
Warranty
5 Years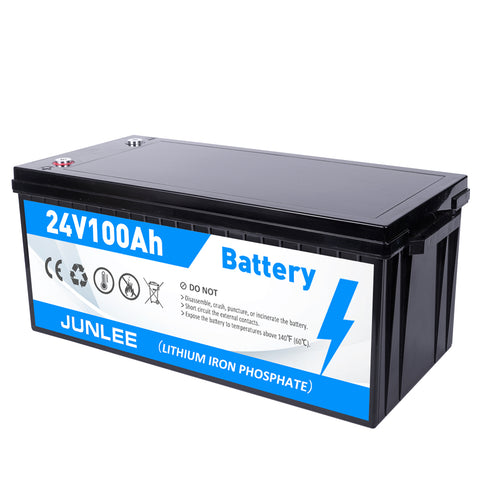 Lithium Iron Phosphate Battery Benifit 
Battery Benefits
*【Cell Balancing 】 Series cells can lose capacity over time if not properly managed. The BMS keeps the cells balanced, which optimizes the battery for maximum available capacity and lifetime.
*【Heat Management 】Extreme high or low temperatures can damage lithium batteries. The BMS continuously measures termperature and protects the battery from becoming unsafe or damaged. 
*【Short Circuit Protection 】The internal Battery Monitor System(BMS)will detect dangerous short circuits and protect the battery from damage. 
*【Copper Bus Bars】The connections between cells are made from 100% copper bus bars, which results in a very low internal resistance. Less internal resistance means less heat when the battery is under load resulting in better performance. 
*【UN DOT Certification】Tested and approved for UNDOT means Junlee! LiFePO4 Batteries can handle vibration and shock experienced in mobile applications. 
*【Prismatic Cell Enclosures】The metal, prismatic cell enclosure in Junlee. LiFEPO4 Batteries are super durable and perfect for mobile application.
*【LiFePO4 Chemistry】LiFePO4 batteries have stronger chemical bonds than traditional lithium batteries. This makes them less vulnerable to things like short circuits, even if the BMS somehow Failed. 
*【Battery Management System】(BMS) The BMS inside. LiFePO4 Batteries manages various aspects of the battery to make it extremely safe providing better performance and longer life.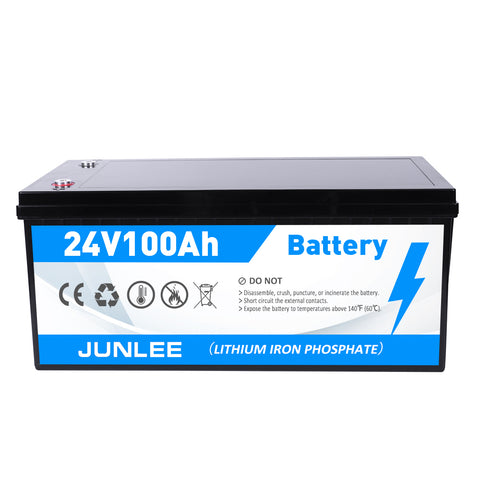 More details
Charges 4-6x Faster
No more waiting for 6-12 hours to get a full charge. Our Ionic lithium solar batteries charge 4-6 times faster than lead acid.
Lasts 2-4x Longer
We build our batteries tough, guaranteeing 2 to 4 times the lifespan of lead acid.
Non-Toxic
Lithium solar batteries are a dream come true for renewable energy enthusiasts. They're safe, lead-free, and recyclable.
Maintenance Free
Unlike their attention-hungry lead acid counterparts, these batteries need absolutely no maintenance.
15x Lower Discharge Rate
Lithium solar batteries discharge at a rate of just 2% per month.
Up To 70% Lighter
Same storage capacity as comparable lead acid batteries. Less than half the weight.
Drop In Replacement
It's easy to switch to lithium batteries for solar setups.
Run In Parallel
Connect and run as many solar lithium batteries as need in your solar setup.
FAQ
Q:What is special about lithium batteries?
A: With high energy density, it has reached 460-600Wh/kg, which is about 6-7 times that of lead-acid batteries. Long service life, life span can reach more than 6 years. Light weight, the weight is about 1/5-6 of the lead-acid product under the same volume.

Q:What is a lithium battery used for?
A:Lithium battery use for power and energy storage. Like emergency power backup or UPS. Dependable electric and recreational vehicle power, golf cart,reliable and light-weight marine,solar power storage, surveillance or alarm systems in remote locations.

Q:What is the difference between a lithium battery and a lithium-ion battery?
A:It mostly comes down to the fact that lithium-ion batteries are rechargeable while lithium batteries are single-use. Lithium battery have a higher energy density than lithium ion batteries.

Q:Are your batteries safe?
A:Our batteries are safe. All Junlee batteries use the safest and most stable components, including a LiFePO4 cathode and a built-in Battery Management System (BMS).The BMS protects the cells against excessively high or low voltages, high currents, short circuits, and excessive heat or cold. These are the most common causes of battery failures, and we have taken every precaution to mitigate these risks in all of our batteries.

Q:What is an advantages of lithium batteries?
A:Compared to lead-acid and other lithium batteries, lithium iron phosphate batteries offer significant advantages, including improved discharge and charge efficiency, longer life span and the ability to deep cycle while maintaining power LifePO4 batteries often come with a higher price tag, but a much better cost over the life of the product. No maintenance and super long life make them a worthwhile investment and a smart long-term solution.

Q:How do I choose the correct lithium deep cycle battery for my application?
In most standard 12, 24, or 48 volt systems the best choice of lithium battery is LiFePO4 (Lithium Iron Phosphate). The voltage of this type of battery is very similar to an AGM and will work great with readily available system components for your RV, boat, or off-grid power system.